Women of Steel - About the steel dress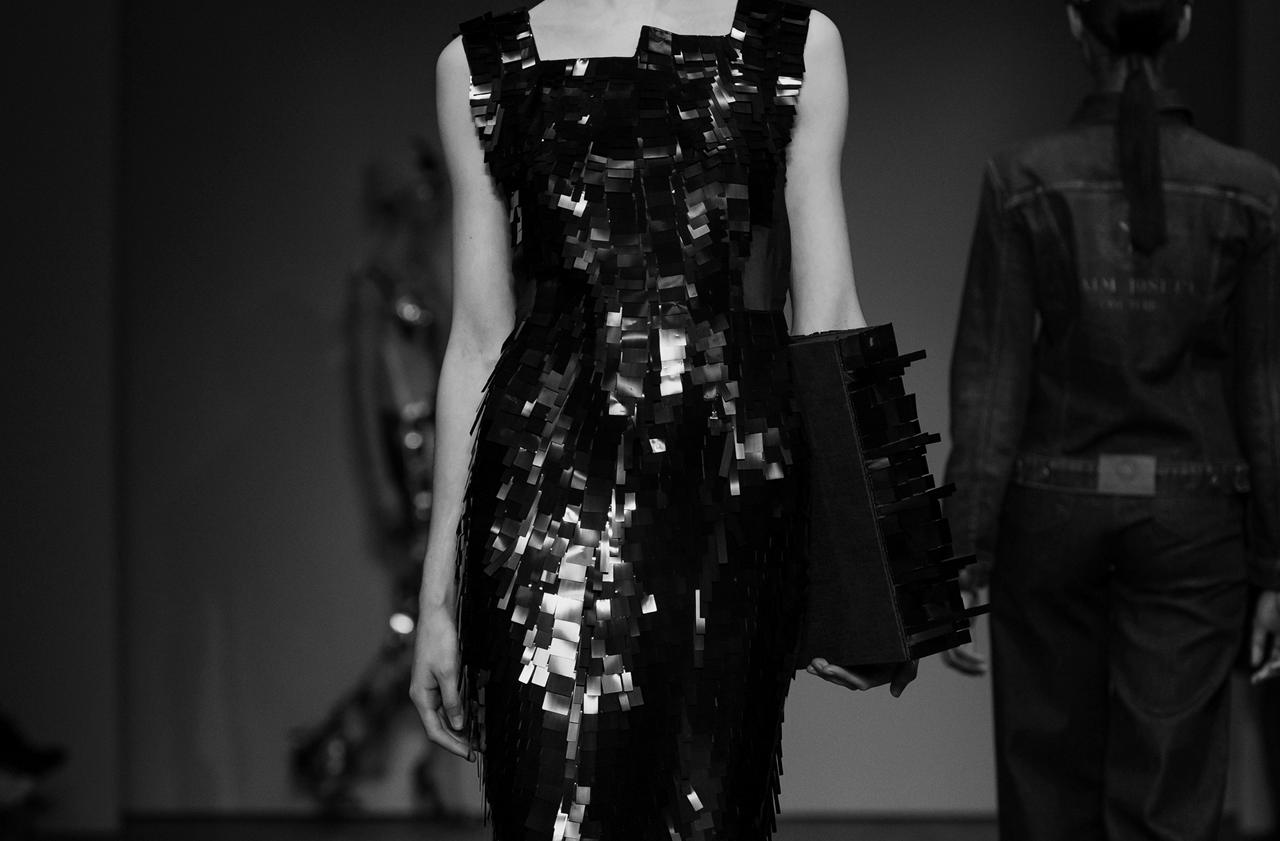 Naim Josefi opened the Stockholm Fashion Week on January 29 with three dresses made from steel. Here follows a little bit of fact about the steel so thin it can be sewn with a needle.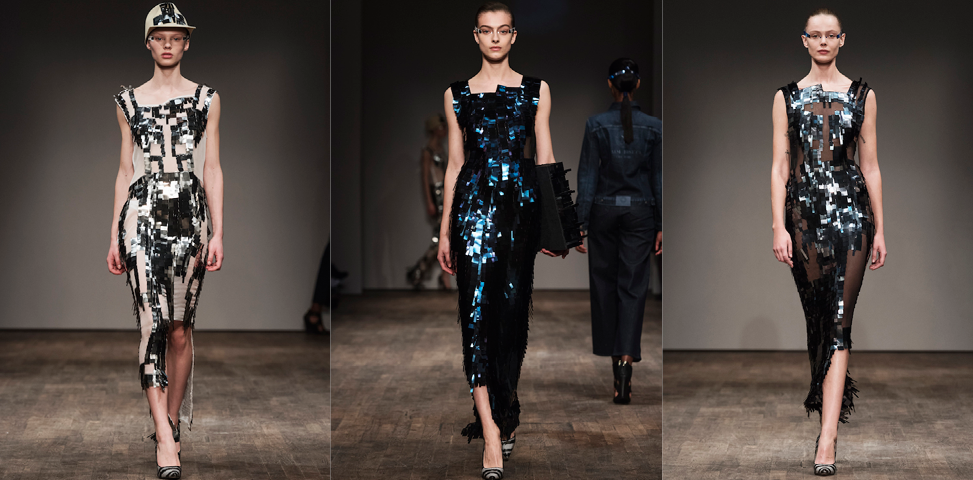 The silver, blue and black dress on the catwalk. Photo: fashionweekstockholm.se.
Click here to see all the photos from the runway!
The steel was delivered from Munkfors as a strip and photo-etched into thousands of sequins.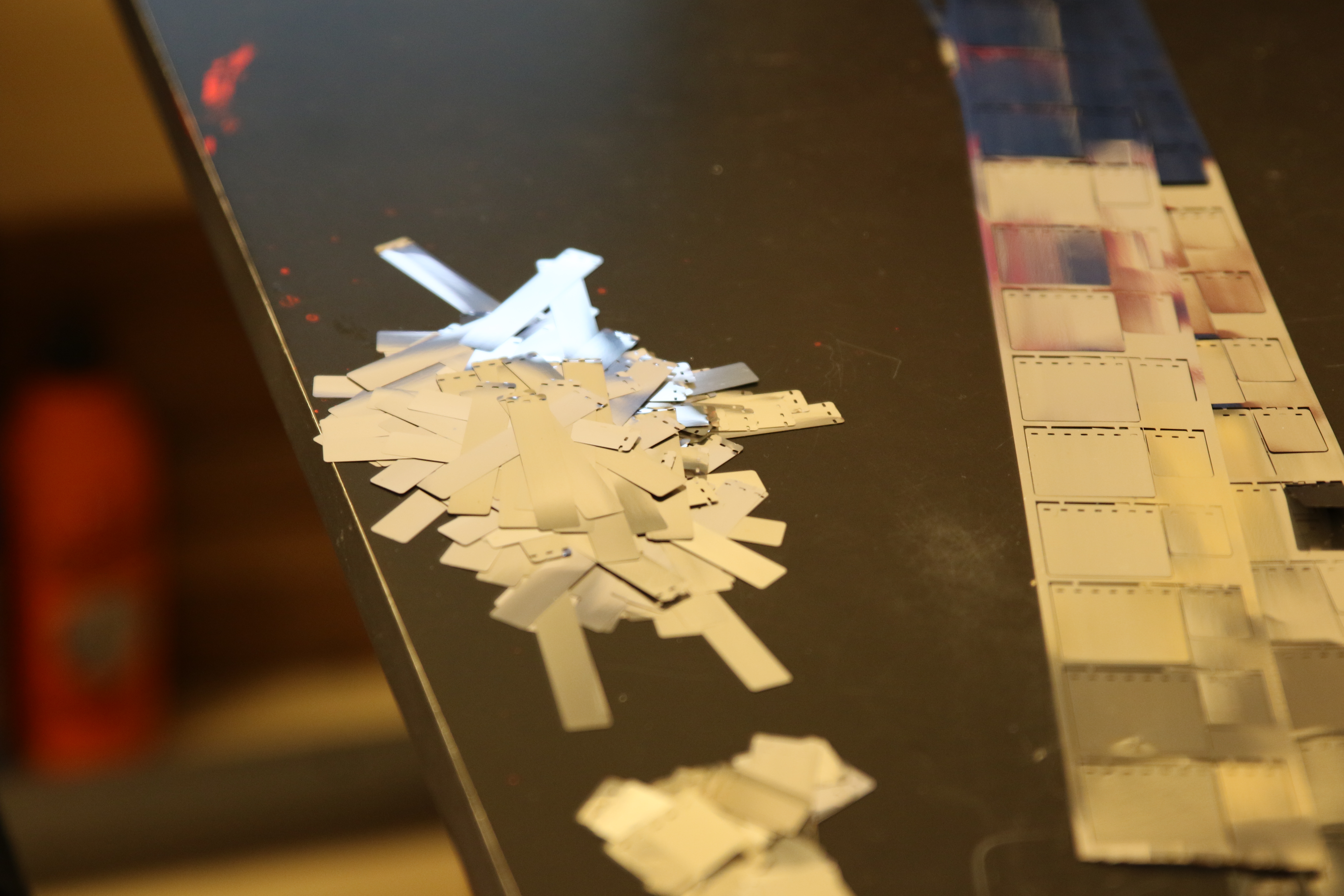 The sequins in Naims studio
The steel in those sequins is only 22 µm thick! This can be compared to a strand of standard human hair which is around 80 µm thick, or a strand of the finest, blonde hair with a diameter of 17 µm. Other things of the same magnitude include the infamous pollen, the bringers of hay fever, ranging in sizes of 10 to 50 µm.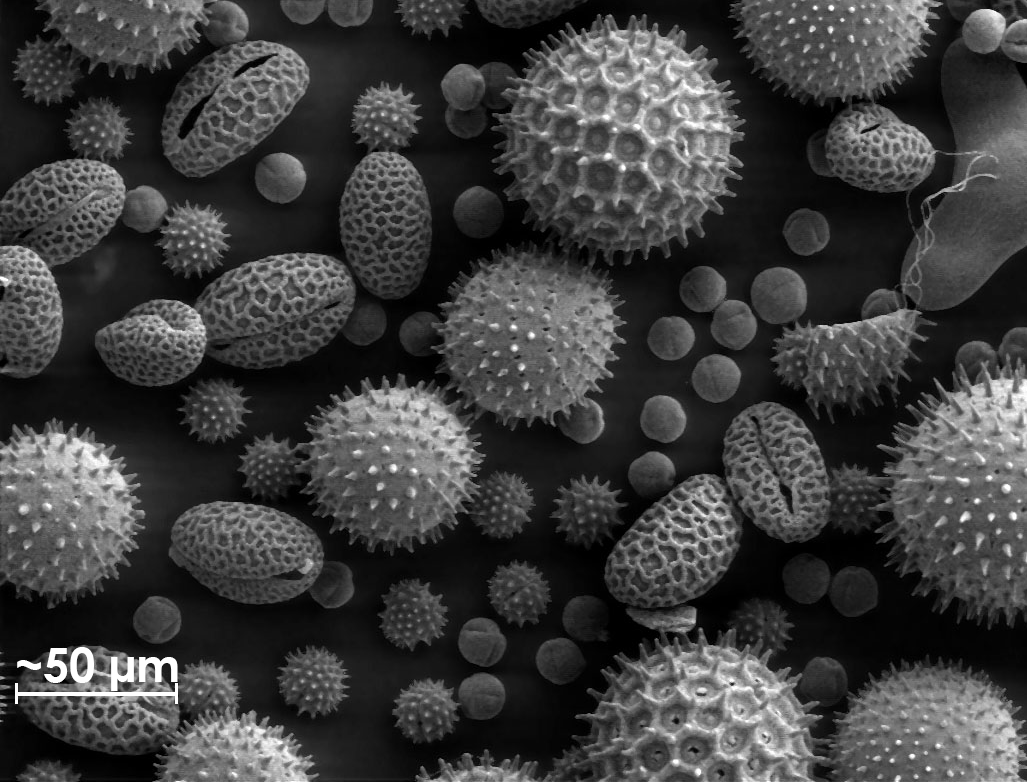 SEM image of assorted grains of pollen - Dartmouth College Electron Microscope facility
voestalpine Precision Strip in Munkfors, specializes in rolling down to these extremely small thicknesses, and have been doing it since before internet was a thing. Common uses of this ultra-thin steel include the weaving reed, a comb like structure used in weaving machines, and latch needles for knitting (a less common but awesome use is blades meant to cut parachute lines in emergencies). However, coloring a strip this thin is problematic.
The coloring process is theoretically simple: The strip is heated in an oxidizing atmosphere, where an iron oxide layer is formed. The layer works as a prism, so that different thicknesses of the layer give different colors to the steel, and the thicker the layer, the darker the steel. The thickness of the layer is in turn dependent on the temperature and the time that temperature is kept. With a strip 22 µm thick and 300 m long, and one dress being black (thick oxide layer), the process took a long time and the risk of breaking the strip was substantial as the strip was pulled through the oven. Here, the Munkfors team really stepped up to the challenge.

Sequins in different colors
300 m steel in a dress sounds like a lot, but with the thickness being what it is the total weight is only 2.3 kg (and, if folded, would fit inside a teacup). The dresses weigh even less, seeing as they are made from sequins cut from the strip. Being so thin, the steel can even be sewn using a standard nail.
More about the steel dress:
Munkforsstål till catwalken - www.nyteknik.se/
Stål från Munkfors blir unik klänning - www.nwt.se/
Min design ska ge självkänsla - weekend.di.se/
Exklusiv klänning av Munkforsstål - www.svt.se/
Klänning av stål öppnade Stockholms modevecka - www.svt.se/
The "Steel Dress" with voestalpine Strip Steel - www.voestalpine.com/
Så klarade sig stans designers på modeveckan - www.mitti.se/
Plagg av stål - www.nwt.se/
Värmländskt precisionsstål gör succé på catwalken - www.svenskverkstad.se/